Donate
Fearless Kitty Rescue is completely funded by donations. We receive no government funding. We count on community support to continue our life-saving programs. As a no-kill rescue organization, we spend approximately $200 per animal to prepare them for adoption. This includes daily care during kitties' stays at our adoption centers, vaccinations, tests, microchipping, and spay/neuter surgeries. No gift is too small to help us continue our life-saving efforts.
Please consider making a recurring monthly donation to help us continue our important work! Click below to get information on our monthly giving plans and what they can do for us.
Follow us on social media to keep up with our rescue and see how we're putting these donations to good use. We're so grateful for your support!
Matching Gifts
Double your donation!
Many companies offer matching gift programs to encourage employees to contribute to charitable organizations. Some provide matching funds to support employee volunteer hours. Most of these programs match contributions dollar for dollar, and some will even double or triple the amount of your gift! Please check with your company to see if it offers a matching gift program. If your employer requires an Employer Identification Number (EIN) (i.e., Federal Tax Identification Number), please use 46-0993077.
If applicable, you may mail your company check and completed matching gift form to:
Fearless Kitty Rescue
Attn: Matching Gifts
P O Box 19601
Fountain Hills, AZ 85269
Your personal gift and matched contribution will be credited to the program or event location that you designated. If you have any questions or need additional information, please feel free to contact us at info@fearlesskittyrescue.org.
If your organization does not have Fearless Kitty Rescue designated as a recipient in their program, please encourage them to make us a member. We can be reached at info@fearlesskittyrescue.org to answer any and all questions your employer may have.
Donate Supplies
Our wishlist is listed in order of greatest need. Shop online or print a copy of this wishlist here!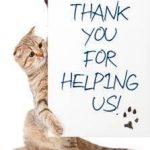 Gift cards in any denomination:
•  PetSmart
•  Petco
•  Target
•  Walmart
•  Amazon.com
•  Home Depot
•  Lowe's
FOOD:
Canned Food
•  Max Cat Turkey & Giblets – PATE ONLY
•  Max Cat Chicken & Liver – PATE ONLY
Dry Food
•  Purina Pro Plan — KITTEN ONLY
•  Natural Balance — Kitten to Adult Dry Food
•  Any brand without added coloring
SUPPLIES:
•  Clumping litter
•  Paper towels
•  Tubs of Clorox wipes
•  Small garbage bags — 8 or 10 gallon
•  Kitchen garbage bags — 13 gallon
•  Large black industrial-strength garbage bags – 50 gallon
•  Fabric softening dryer sheets
•  Clorox Bleach
•  Dish soap — anti-bacterial ONLY
•  Laundry detergent — front loader only, any brand
Support Fearless Kitty Rescue While You Shop
Click for more info about ways you can support Fearless Kitty Rescue through your regular purchases — without any additional cost to you — when you shop with our generous partners.