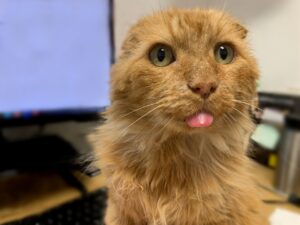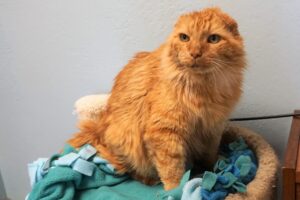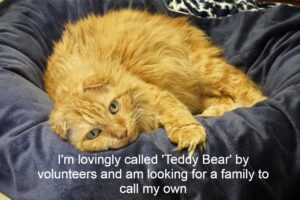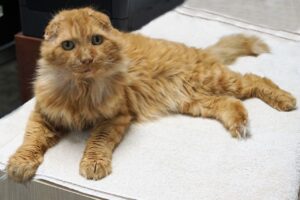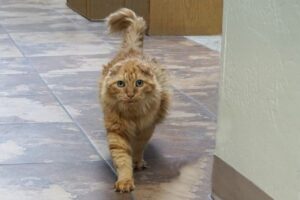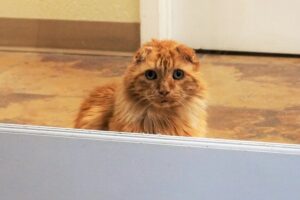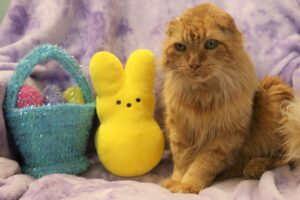 Gender: Male
Age: 11 Years
Breed: Domestic Short Hair
Color: Orange
Pattern: Tabby
Teddy is a super senior, we estimate him as being over ten years old. He was found as a stray and made his way through a few hands before becoming Fearless!  Teddy has kidney disease currently being managed by supplements and SQ fluids twice a week. He also has some sensitive stomach issues and eats a frozen raw diet. We have done some dental extractions for him, making sure he is comfortable for the rest of his life. This boy was not neutered when he was found so we were not surprised to learn he is FIV positive. His immune system is doing great especially with his raw diet!  While he was outside, he also developed fluid-filled pouches on his ears that burst, leaving him with funny little folded over ears.
Teddy loves his humans dearly and would love to keep you all to himself. For this reason, we do not advise having any other cats. He potentially could live with another maybe female cat if the introduction was slow and controlled. Teddy just needs a warm bed, pets & loving, and some help managing his chronic issues.
Adoptions are by appointment only and if you'd like to be Teddy's forever home, please fill out an adoption application and the adoption counselor will contact you to set up and appointment to come and meet Teddy.