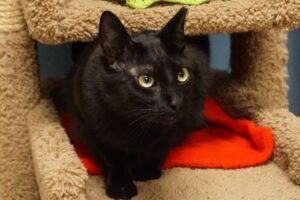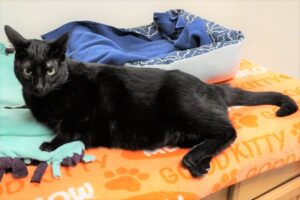 Gender: Male
Age: 1 Year
Breed: Domestic Short Hair
Color: Black
Pattern: Solid
Mufasa is so darned handsome with his shiny black fur and yellow eyes.  He's social, super sweet, and will jump into your lap.   When he was a kitten, he was found in a Tempe neighborhood with his two siblings.  They were all taken to Altered Tails for spay & neuter and afterward, the finder was going to release them back into the neighborhood where they were found.  Mufasa and his siblings were super friendly & not meant to be community cats.  But, the finder didn't have room at her condo for them and asked a Fearless Kitty volunteer to take them so they wouldn't be released to wander the neighborhood.  Mufasa became Fearless on September 30, 2019, and in November 2019, he was adopted by a young couple and happily lived with them until a baby joined the household.  They found that they could no longer keep Mufasa and he recently became Fearless again.   He's had his wellness exam and is ready to move onto a new home.
Adoptions are by appointment only.  If you'd like to come in and meet Mufasa, please complete an online adoption consultation and an Adoption Counselor will contact you to schedule a meet & greet.