Looking For Mr. Wonderful?
I wasn't expecting to start my life over from scratch. I was tearfully surrendered to Fearless Kitty Rescue after my human passed away.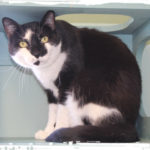 After having time to adjust to my new surroundings, I think it's time for me to move on…find someone new, take a deep breath, fix myself up, lick off my wounds, get it together, and start all over again.
There are a lot of cats in the shelter right now, so I have to step up my promotional game in order to get noticed. I've let myself go and I'm not getting any younger. I need some new clothes, though I'm already rocking a Tuxedo.
I need a make-over.
To improve my chances of adoption I've decided to take inspiration from some handsome, ever-youthful stars like Bon-Jovi, Kevin Kostner, Idris Elba, and George Hamilton. These guys never age! I dread taking a selfie, my friend told me its time to start considering anti-aging potions, maybe grow a beard. Oh, and I'm living in constant fear of FaceTime calls.
The "New Me" starts the day with cat tree calisthenics, a hearty breakfast, fastidious grooming, a bit of flirting with the staff here, a quick look at myself in the mirror and a couple of kisses to myself; then I'm photo ready and available to chat with any person that comes to visit. I'm hounded by the Paparazzi around here, who post photos of me for the Fearless Kitty Rescue newsletter and their Facebook page. Good genes, good looks, good health, and good manners, make me quite popular and a real catch.
My Secret: I've been sipping from the fountain of youth (my water bowl) since February 2018. I've purchased a little black hair dye to be applied in all the right spots, and I've practiced moving that tail around like Mick Jagger. Just look at me… I act like cats half my age! Despite my middle age status of 10 years, I don't act a day over 5!
I'm very loving and affectionate, the folks here adore me. I really miss the good ole days of hearing the pop of the cat food can, and the aroma of quality cat chow and having the place to myself. Humans bringing gifts just to garner my attention. Memories of sleeping in a warm bed, napping on a lap, curling up at your feet, and endless hours of petting and grooming seem like the stuff of dreams now.
Seriously, all I require is a home, and a person; all they need to do is sit there, I'll do the rest, I'll even remind you when it's time to eat! You can go to work and I'll just look after the sofa, deal?
People tell me I'm a calm and confident cat; who loves nothing more than being the center of your attention. I'm athletic, in fact, I'll jump over all my buddies to greet you at the door! Since I'm also a gentleman of the old school, I've got impeccable manners and I will wait my turn to get my hair brushed. I just love to be near people!
Please don't overlook me simply based on my age. If they didn't tell you, you'd never guess. I still have loads of energy, lots of love to give, and a lot of living left to do. I'm longing for a human or two, who will cherish my presence and enjoy the calmer, relaxing side of life with ME! I've got so much to give!
So, if you're looking for a cat wearing a Tux, with heaps of personality, who will keep you entertained, I'm the guy for you. Do I sound just perfect? Then give me a call, ask for Piston, and envision an incredibly fun future together, forever.
Should you choose to adopt one of those younger guys … instead of lovable handsome me, would you mind leaving the name of a feline plastic surgeon for me? This may improve my chances of getting chosen in the future.
Yours truly Mr. Wonderful,
aka Piston
Visit our adopt page to see our Kitty of the Month as well as all our other Fearless Kitties. To get started with the adoption process, fill out our

Adoption Consult Form
.