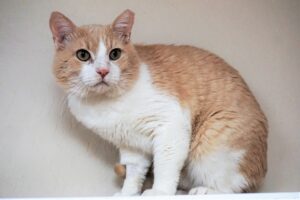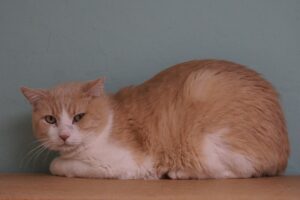 Gender: Male
Age: 7 Years
Breed: Domestic Short Hair
Color: Orange White
Pattern: Bicolor
Cousteau is one lucky kitty due to the kindness of a homeowner in Mesa.  He regularly showed up at her house for over a month and she would feed him.  Then one night he did not show up.  About a week later, one morning she was walking her beagle and heard a cat crying and found Cousteau trapped in a culvert pipe.  She rescued Cousteau but the next day her husband heard him crying, and again he was trapped in the culvert pipe.  Once freed, Cousteau ran away.  Two days later, he showed up at their house and was severely dehydrated, thin & hungry, with wounds from his attempts to escape the culvert pipe. They were able to trap him and took him to a Vet for treatment.  They discovered that Cousteau was a very social, affectionate cat and took him into their home.  He stayed with the finder for about 3-4 weeks until they contacted Fearless Kitty Rescue to help find Cousteau a home. The finder said he's an amazing cat.  Cousteau has been fully vetted, including a dental appointment.  Because of his prior trauma in a culvert pipe, Cousteau will need time to settle into a new home and adjust to new sounds and surroundings, but his foster dad said once he settles in, he's an affectionate, purry fur baby.
Adoptions are by appointment only and if you'd like to come in and meet Cousteau, please complete an online consultation form to schedule a meet & greet.